BAKEN - a landmark for the Waasland Logistics Park
BAKEN was recently erected at the edge of the Waasland Logistics Park, phase West on the border between the port area and the polders. This work of art by Niko Van Stichel and Lut Vandebos refers to centuries of human presence and activity in this area.
BAKEN is 6 meters high, and was inspired by the finds in the Logistics Park Waasland phase West. Furthermore, the direct neighbours of the Logistics Park Waasland were given the opportunity to contribute to it. Several local residents sent in images of decorative elements that, for them, are inextricably linked to the history of the villages and their surroundings. Niko Van Stichel and Lut Vandebos creatively processed these images into the patterns you can recognise today in BAKEN. BAKEN refers to the flint stones found on the site and is composed of more than 20 surfaces covered in lasered patterns.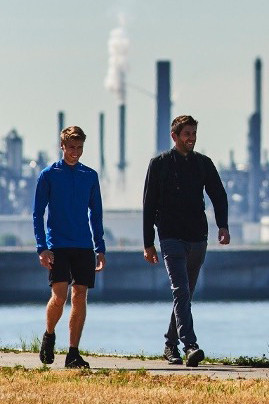 Havenland: this is the Antwerp port area with its surrounding municipalities on the left and right banks of the Scheldt river. Havenland wants to expand its educative and recreational services to...